Developed with professional race teams in the IMSA and the SRO series, ProPLUS HUBStands brand of automotive set up stands have Omni-Directional Roller Ball Bases. They are adjustable for Wheel Offsets, Scrub Radius, exact Tire diameters and Ride Heights.  With ProPLUS HUBStands, you can get the most precise, accurate and repeatable set ups possible, with everything measured directly at the centerline of the hubs and the center of pressure in the car's virtual contact patch.
The machined aluminum bases on HUBStands ProPLUS with a pair of proprietary high impact resistant stainless steel roller balls are uniquely adjustable for scrub radius and wheel offsets from 0mm to 90mm. This adjustability allows the ProPLUS HUBStands to keep the suspension load  centered in the true contact patch at each hub. HUBStandsProPLUS branded set up stands come standard with a choice of interchangeable multi-pattern Hub Plates that are infinitely height adjustable to precisely match tire sizes from 21.25" to 29.5" and with fits for practically any 4, 5 or 6 lug hubs including center locks.
ProPLUS HUBStands are machined from 6061 aluminum and come complete as a set of four with exact height and scrub radius /offset adjustable roller ball bases, (4) interchangeable, multi-pattern Pro Hub Plates, stainless Toe Sticks, stub extensions and Acrylic/Composite Anti-Roll off Safety Plates.
On PRO PLUS HUBStands you will maintain repeatable measurement tolerances for camber to within 0.01 degrees, Toe within 0.1 minute and height to within 0.01mm. On a set of HUBStands ProPLUS set up stands, everything can be set directly at the centerline of each hub; you take the wheels off once and eliminate all the inherent tire variances and all the pushing, rolling and wheel wrestling.
Full professional alignment packages with HUBStands brand hub stands, Intercomp scales, pad levelers, digital camber gauges and string sets are available for practically any race car. All HUBStands brand hub stands are designed, engineered, and made in the USA.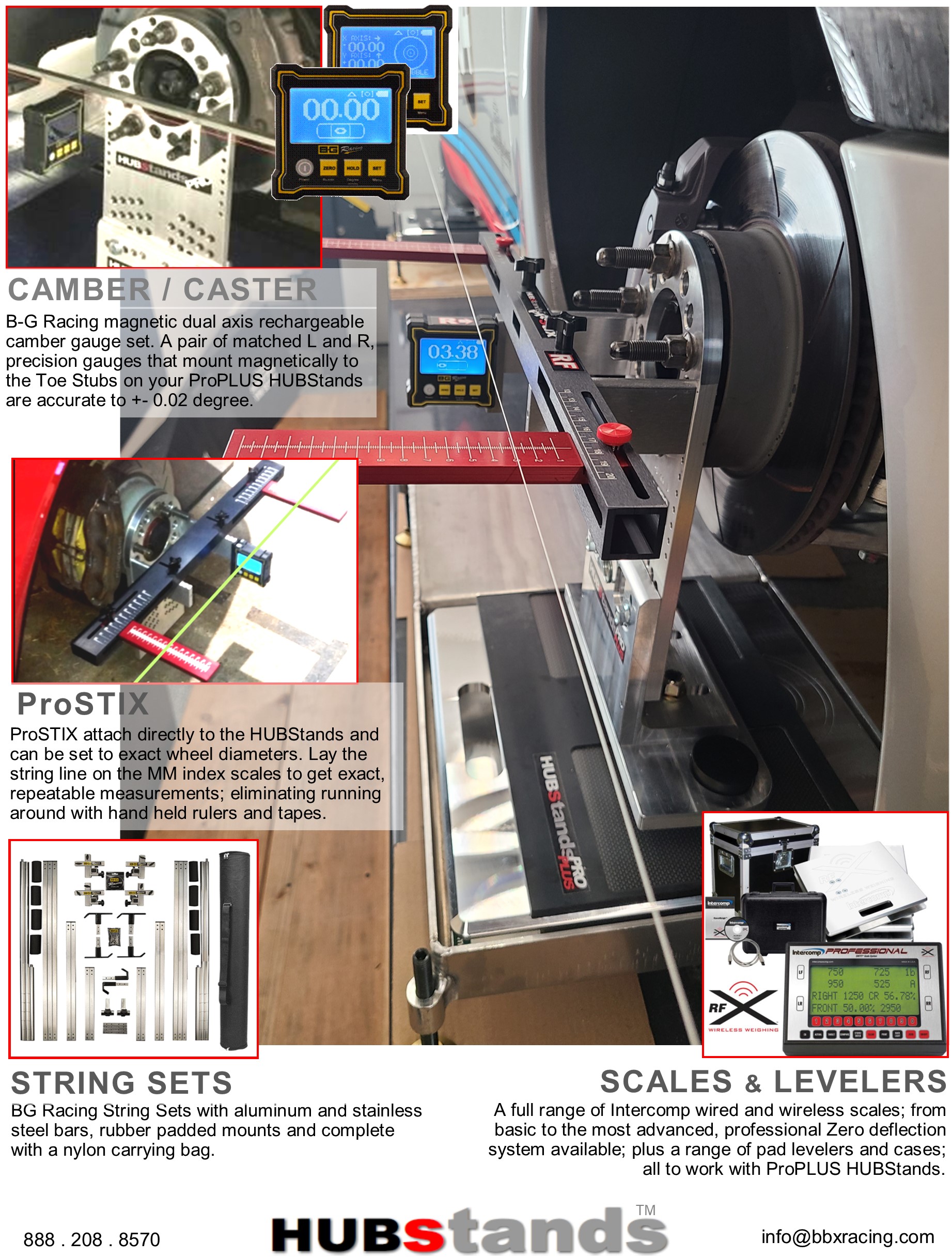 ---
HUBStands Alignment System Components
Related Products